Single Analyte Meters (SAMs)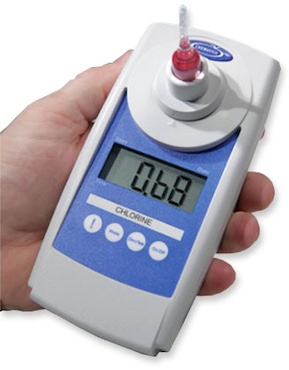 CHEMetrics offers a range of dedicated photometers known as Single Analyte Meters (SAMs), for measurement of sample ampoules and vials. Each SAM is programmed to analyse one specific analyte (see below). Our SAM range offers an unprecedented blend of simplicity, convenience of use, features, performance and value for money, providing results equivalent to probes and meters costing considerably more.
Specification & Features
The rugged, waterproof units feature a large display with optional backlight. The last 16 data points (with a time and date stamp) are automatically stored which can be easily recalled using the Menu function.
| Feature | Specification |
| --- | --- |
| Light Source | Light-emitting diode / interference filter |
| Optical Path | 13, 16 or 22.5 mm light path |
| Power Source | Battery Operated |
| Compliance | European CE Mark |
New! CHEMetrics V-0002 Verification Kit to check the performance of CHEMetrics® V-2000 Photometer. Click here for details.
SAM Kit Range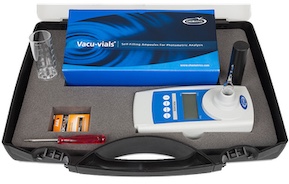 The SAM photometer is supplied as part of a SAM Kit, containing everything required to start testing. The SAM Kit comes in a portable plastic case and typically contains: SAM Photometer, pack of 30 Vacu-vials*, 4 x AAA batteries, screwdriver and instructions. Additional packs of ampoules or vials are available separately for all the SAM kits.
Note:
Click on the 'SAM Range' value for Vacu-vials to view accuracy chart.
Click on the 'SAM Cat. No.' to view the SAM instrument manual.
Click on the 'Replacement Kit or Refill' Cat. No. to view the test instructions.
The majority of the tests listed above can also be performed using the V-2000 and V-3000 Multi-Analyte Photometers.
A range of verification kits are available for many of the above SAMs.
* With exception of A-7320, A-7325 and I-2017.
---
---