Multi-Analyte Photometers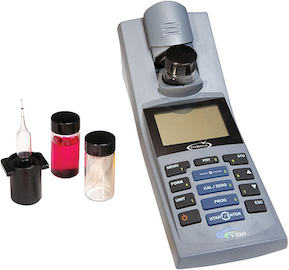 V-3000 Photometer
CHEMetrics® handheld, portable V-3000 Photometer offers cutting edge technology for applications in the field and in the laboratory. Intuitive and easy to use, the menu guides the analyst through all measuring tasks and is pre-programmed with 50+ calibrations, using CHEMetrics Vacu-vials® ampoules (see below), making this instrument the perfect partner in the field whatever the application. Web-based methods update and data logging for 100 data sets.
The optional Power LabStation docking station includes a rechargeable battery pack and universal power supply for easier operation in the lab. Please see below for a full specification and compatible CHEMetrics test kits.
V-2000 Photometer
The V-2000 Photometer is a field-portable instrument that automatically tests pre-programmed analytes employing both CHEMetrics Vacu-vials® ampoules and Chemical Oxygen Demand (COD) vials. It is best suited for those who want to test COD in addition to other analytes. Clear LCD display and simple menus. Web-based methods update and data logging for 100 data sets.
New! CHEMetrics V-0002 Verification Kit to check the performance of CHEMetrics® V-2000.
Specifications & Features
Feature
V-2000
V-3000
Instrument Applicability
Portable
Portable / Benchtop
Display
LCD
Graphics / Backlit
Control Auto Shutoff
No
Yes
Power Supply Options
Battery
Battery, Rechargeable Battery*,
Universal Cable / Plug*
Wavelengths (nm)
420, 520, 580, 610
436, 517, 557, 594, 610, 690
Cell Size
13 mm, 16 mm
13 mm, 16 mm, 28 mm
(flat bottom vials only)
Custom User Programs
10
100†
Waterproof
IP67
IP67
Operating Temperature
0 to 45℃
0 to 50℃
Automatic Countdown Timer
Yes
Yes
Data Logging
(inc. Time & Date Stamp)
100 points
100 points
Language Selection
No
Yes: English, German, French, Spanish
Web-based Methods Update
Yes
Yes
Data Interface Software
No
Yes
Warranty
2 years
2 years
Optional Accessories
| Cat. No. | Description | Model Compatability |
| --- | --- | --- |
| A-0301 | Data Management Software | V-3000 |
| A-0302 | Power LabStation | V-3000 |
| A-0306 | 28mm cell with lid | V-3000 |
| A-0307 | USB Cable Adapter | V-2000, V-3000 |
Compatible Instrumental Test Kits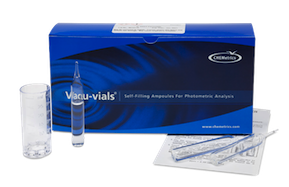 Below is a complete list of Instrumental Colourimetric Test Kits that can be used in conjunction with the V-2000 and V-3000. CHEMetrics Vacu-vials Test Kits employ CHEMetrics patented self-filling reagent ampoules for convenient, efficient and safe testing. Premixed. Premeasured. Precise. Each kit contains 30 ampoules for 30 tests with the exception of COD vials (also available in larger sizes). Units 'ppm' are equivalent to 'mg/l'.
All CHEMetrics multi-analyte photometers can of course measure any type of compatible cuvette or vial, designed for photometric analysis, to show either absorbance or percent transmittance readings.
---
* Requires purchase of Power LabStation (A-0302)
† Requires purchase of Data Management Software (A-0301)
‡ Range indicated in format: [V-2000 & V-3000] / [Spectrophotometer].
Note: Click on the 'Test Kit Cat. No.' to view test instructions. Click on the 'Photometer Range' value to view accuracy chart.
---
---