Manufacturing and Mining
Manufacturing

Applications for CHEMetrics kits in manufacturing industries include a variety of tests for manufacturing plants such as textile mills, tanneries, leather factories, steel mills, electronics (semi-conductor and PCB manfacturers), engineering & automotive plants, and electroplating production lines. Whether testing for contaminants on the influent side or spot checks of effluent water, CHEMetrics can equip your lab or field personnel with accurate, easy to use, reliable test kits.
Mining, Quarrying & Ore Processing
Mining, quarrying and ore processing requires large quantities of water, for instance, for chemical treatment of crushed tailings. Large quantities of waste material are produced, which can affect runoff and surface drainage. Potential source of water pollution include acid mine drainage, processing chemicals, heavy metals from excavated rock that come into contact with water, and sediment from erosion. A number of CHEMetrics test kits and meters can be used for spot checks of influent, process and effluent water for quick, convenient and reliable testing. CHEMetrics test kits can also be used for process and effluent water checks at precious metal refineries.
Test Kit Benefits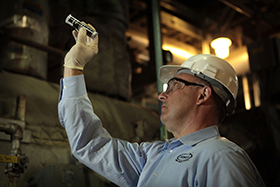 Precise, accurate and sensitive
Simple test procedures
Rapid, reliable results
Visual or photometrics kits for lab or field use
Reduced operating costs
Related Articles
Alkalinity Measurement and Natural Waters
Oxygen Demand: Distinguishing BOD and COD Methods of Analysis
Environmental Dissolved Oxygen Testing: CHEMetrics Test Kits vs Winkler Titration
---
---