Power Generation

CHEMetrics is the undisputed worldwide leader in colourimetric, low-level Dissolved Oxygen analysis. CHEMetrics test kits and meters are used throughout the power generation industry to monitor corrosive and deposit forming elements in water, and also to monitor corrosion inhibitors and biocides (e.g. chlorine in cooling towers).
Dissolved Oxygen (DO), is one of the most important water quality parameters to control in a boiler system. It is the primary corrosive agent of steam-generating systems. Even low concentrations of DO can be highly destructive, causing localised corrosion and pitting of metal system components. CHEMetrics is the sole source supplier of the test kits specified in ASTM D5543-15, Standard Test Method for Low-Level Dissolved Oxygen in Water. Dissolved Oxygen CHEMets® ampoules are perfect for use as the primary testing method for dissolved oxygen or to verify readings obtained from online equipment.
Product Spotlight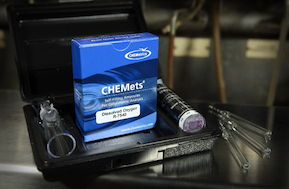 CHEMetrics® is the only manufacturer of a portable test kit for detecting trace levels of dissolved oxygen in boiler applications. CHEMetrics® Water Analysis Test Kits feature the convenience of 'snap and read' self-filling ampoules, offering plant operators a rapid, reliable, maintenance-free means of determining ppb levels of DO within one minute. Test kits provide all the components necessary for analysis and do not require calibration by the operator.
For more information on dissolved oxygen and other test kits applicable to industrial water treatment, click on the above analytes.
Related Articles
Alkalinity Measurement and Natural Waters
DEHA: Use and Testing of DEHA in Boilers
Film Forming Amines (FFAs) and their Applications in the Power Plant Industry
Monitoring Dissolved Oxygen in High-Pressure Boiler Systems and Feedwater
---
---