About Us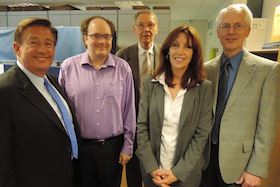 CHEMetrics are based in Midland, Virginia and have been supplying and developing innovative water analysis systems for over 50 years. The founder, chemist Gordon Rampy, seeing a need for faster, simpler, and safer water testing solutions, developed an innovative technology for colourimetric water testing applications, based on a unique self-filling reagent ampoule. He started the company in 1969 to bring this exciting new technology to market.
Today, CHEMetrics manufactures and ships millions of water testing ampoules each year. The CHEMetrics' innovative Research and Development Group continuously develops exciting new products to meet emerging water analysis needs.
CHEMetrics products are also known for their high quality and dependability, the result of meticulous and rigorous testing by the company's Quality Assurance staff; ensuring the products perform as you expect them to; providing accurate and reliable results in the laboratory or out in the field, whether testing a single sample or large batches of samples.
Galgo (UK) Limited is the official CHEMetrics representative for the United Kingdom and the Republic of Ireland, since 1980, and Europe's premier CHEMetrics agent. We supply CHEMetrics Water Analysis products to companies, organisations and end users in the UK, the Republic of Ireland and a variety of countries across the world. Founder Bjorn Askert, physicist and Honorary Vice President of the Swedish Chamber of Commerce, was first introduced to CHEMetrics products in 1980. He was intrigued by the technology and saw a strong need for this type of product in the UK and Irish water testing market. Galgo began distributing CHEMetrics products the same year.
Galgo is based alongside the Grand Union Canal in Berkhamsted, Hertfordshire. We provide a reliable, efficient and courteous service. We carry most frequently ordered items in stock and can offer same day shipping for the majority of orders. With several decades of experience with CHEMetrics products, we offer full technical product support. Galgo is an active member of the Federation of Small Businesses. Top photograph is of the Galgo and CHEMetrics team. Please see our Impressum page for further company information.
Please give us the opportunity to demonstrate that we can provide the best combination of innovation, quality and service you can find anywhere. With CHEMetrics, it's not just about doing it well. It's about doing it better.
---
---